Laser vision correction refers to procedures that reshape the cornea with laser energy to correct nearsightedness, farsightedness, and astigmatism. These procedures can be customized to provide a unique treatment for each patient resulting in the best possible vision. All of our LASIK procedures are performed by Dr. Selser and are done in our state-of-the-art facility.
LASIK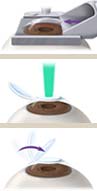 Laser-Assisted In Situ Keratomileusis (LASIK) is a safe, reliable and painless way to improve vision by changing the way light is bent, or refracted, as it passes through the cornea, so that it properly focuses on the retina and allows objects to be seen clearly.
During the LASIK procedure, the surgeon creates a thin flap in the surface of the cornea with a device called a microkeratome. This procedure is performed under local anesthesia. The corneal flap is then lifted and an excimer laser beam reshapes the cornea's curvature to improve vision. Finally, the flap is placed back to its original position. The entire procedure takes about 15 to 30 minutes.
The ideal LASIK candidate includes someone who is over 18 years old, has stable vision and has a healthy cornea that is thick enough for a flap. After undergoing the procedure, patients often experience rapid vision improvement and can sometimes return to work the very next day.
Custom LASIK
Custom LASIK, also known as wavefront LASIK, is quickly becoming the new standard in laser vision correction as it offers the most accurate, individualized results for each patient. This FDA-approved procedure uses three-dimensional measurements of the eye to help guide the laser as it reshapes the cornea and corrects your vision.
Custom LASIK allows a higher percentage of patients to achieve 20/20 vision, with many patients achieving vision that is better than 20/20, a feat not always possible with traditional LASIK, glasses or contacts. Custom LASIK also reduces the risk of poor night vision and glare, side effects that can occur with traditional LASIK.
During this procedure, a wavefront device transmits a ray of light into your eye that is received and arranged into a unique pattern to create a 3-D map of your eye, including both lower and higher order aberrations. This information is then transferred to the laser and applied to your eye's position, allowing Dr. Selser to achieve customized vision correction for your individual needs.
LASIK at Ohio Eye Associates includes:
University trained Cornea Fellowship Surgeon
Dr. Selser's pre-op evaluation included at no additional cost
One price with no extra charge for astigmatism or farsightedness
Dedicated Laser room with Hepa Air Filtration
Large diameter treatments available to minimize glare and halos
Wavefront Technology with Iris Registration and 3-D Active Tracking available
All Laser procedures performed in town at Ohio Eye Associates
Financing available
Refractive Lens Exchange
Refractive lens exchange, also called clear lens extraction, replaces the natural lens with a multifocal intraocular lens (IOL) in patients wishing to correct high farsightedness, high nearsightedness or presbyopia without undergoing a corneal modification procedure such as LASIK. Patients can choose from a wide range of IOLs in order to achieve the best possible vision for their individual eyes.
The refractive lens exchange procedure is the same as that used in cataract surgery; the only difference is that refractive lens exchange is performed to achieve refractive correction rather than cataract removal. Refractive lens exchange involves a rapid recovery and offers patients dramatic improvement in vision quality.
After surgery, patients enjoy clearer vision and greater focusing power almost immediately. Many eliminate or significantly reduce their dependence on glasses or contact lenses, and vision remains stable over time. This procedure also prevents the patient from developing cataracts in the future.
You may be a candidate for clear lens extraction if you:
Want to reduce or eliminate your dependence on glasses or contacts
Are over 50 years old
Have high myopia (nearsightedness), high hyperopia (farsightedness), or presbyopia, with or without cataract
Have early symptoms of cataracts
Although refractive lens exchange is considered safe for most patients, there are certain risks associated with any kind of procedure. You can discuss these risks, along with the benefits of this procedure, before deciding whether or not it is right for you.